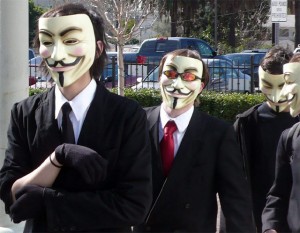 Some of you might have heard of this "Anonymous" thing. Anonymous is a very loose confederation of (my words) second or third generation Internet mall-rats. (Malls being torn down all over the country, they have to go somewhere. )
Kids for the most part, or young adults.
Back in January they decided to show Scientology who was boss, over a pretext too. Tom Cruse did yet another of his silly stunts in front of the cameras, this time for a Scientology get together back in 2004. This got leaked on YouTube late last year and portions of it got set up in the Internet zine Gawker. http://gawker.com/ Gawker got a cease and desist and pretty much ignored it, news said Gawker, fair use.
The kids were watching, one of them said more or less, "I'm getting sick hearing about Scientology running over people like that." There was some general agreement, and the games began. They posted little YouTube films detailing their intent, some of them started doing Denial of Service attacks on their web pages, taking them down for a time. Then some other voices began demanding audience. Two in particular, Mark Bunker of Xenu TV and Tory (magoo) Christman. They are long-time critics of Scientology, both with deep understanding of how the organization operates.
Mark Bunker became known as "wise beard man" to the kids who were pretty much referring to themselves as "Anonymous." by that time. Anonymous is kind of an Internet joke that has some of the aspects of a prankster and Superman. Mark Bunker did his own little YouTube video asking Anonymous to lay off of the attacks and adopt a different strategy. One that was a little more dangerous but might actually be much more effective.
Protesting. Anonymous protesting.
Lots of Anonymous protesting.
The idea is to get people out in front of the Scientology offices in masks, making a spectacle. Funny clothes, Guy Fawkes masks from the film "V for Vendetta" cake, yellow-van pinatas, that kind of thing. They started doing it, Orlando, New York, and London, a few other places. Then someone decided they should start having world protest Scientology days. The first one was on February 10th. Every large Scientology office was protested.
A friend and I went to the protest in Clearwater, we took cameras and shot some film, I got to meet some of the Anon kids, that was pretty much it.
Last week we started noticing people skulking around, taking pictures of our house. Last week Scientology also filed some kind of restraining order and apparently, my name was on it. Why? Because I was in downtown Clearwater on Feb 10th.
How? They ran my tag.
The restraining order was long and absurd, it had a laundry list of supposed threats that anonymous people had made. According to Scientology, YouTube vids were posted that were clearly bomb threats. These were swiftly yanked due to TOS violation (I had not seen these myself but I've flagged a few others for removal in my time.)
The judge refused to sign off on the the order(s) (there were two, perhaps three.) he cited lack of evidence, (paraphrased) "come back when you can pin these acts on people," he said, not ephemeral groups like Anonymous."
And so it goes, I went to the Friday night March 14th protest. It was not very large, the weather was rainy and wet. PI agents were all over the place and the Clearwater PD were glumly standing in the rain. The Anon kids were very polite, I had a cup of coffee with them after and chatted, we all laughed at the PIs stationed outside the restaurant. (BTW, PROTIP to you PIs, you should roll the window down before taking flash pictures. (dorks!))
When I got home, there was a note on the door, VIPS was here with a delivery for you. Ref number 501.
Hmm I thought.
About ten minutes later the doorbell rang, some fellow claiming to be a process server. I signed for a package and wished him a good night. What I found was a DVD of a video that Scientology posted on YouTube a few days before. A really cockamamie, overblown thing entitled "ANONYMOUS, hate crimes." I've seen it associated with some Scientology outing page. Since it was YouTube there were a number of complaints and the entire YouTube channel was taken down. I think the video is still around somewhere.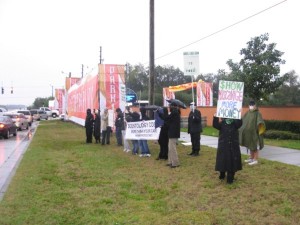 Anyway the letter is,….. I don't really have words,… horrendous? It says more or less that I am responsible for all of these-death threats and to stop doing that immediately. It goes on to say that Anonymous is MY organization!
I mean….wow!
I'm deeply DEEPLY angry over this, my feelings are hurt. Not about being called the mastermind of Anonymous, I'm rather proud of the protest movement. If I am responsible for that, I must be some kind of freaking genius!
But the other thing, the implication on paper that I'm a mad bomber and make death threats? I'm a US service veteran, I held high level clearances, decorated, served with distinction and was honorably discharged. I have a large extended family, many friends and a spotless record. I own property in Largo Florida and I'm a devoted husband and father. How dare this organization say this kind of stuff. Death threats? Bomb threats? I personally am responsible for a popular movement of thousands of people-worldwide?
Did I wake up on the right planet?
I'm flummoxed! This is kind of like making someone responsible for an earthquake, a solar flare or the wind. I wish I had that much control over tens of thousands of people, but I don't. I'm just one guy in the edges of it. I took some video during a protest.
Anyway, I went to the protest today March 15th 2008, showed my face, parked in a public spot in downtown Clearwater and chatted with a bunch of people. Some of the were members of Scientology's Office of Special Affairs, one made a veiled threat. "Think about your kids" he said, "you really want to be there for them." He didn't identify himself as an OSA agent, he was posing as a protester but I think he was, I believe he was. He and about four or five others who spirited in and out of the marchers. One fellow asked me how much money I thought I could get from suing Scientology. (WTF! Is that really all you guys think about? ) "You are too nice!" he said when I told him I had no interest in Scientology's money.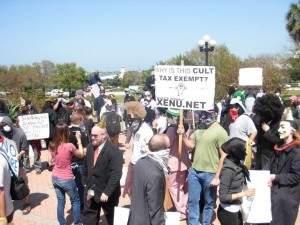 Another made pointed comments about Salt Lake City and the Mormons, "that's Utah's business isn't it?" I said. "Well, said he, "if there were 2/3 Scientologists vs non Scientologists in Clearwater we would not have all the problems in this town. "
"What kind of problems," I asked.
"This stuff!" he said, waving his hands to indicate the protesters.
"Oh right!" I said "People could not freely and peaceably assemble unless it was OK with Scientology. Is that what you are saying?"
One fellow said he recognized me from my photo, when I mentioned that my photo had not been published in the Newspaper or on the Internet (yet.) He started stammering.
My message to these people was very simple, "why don't you guys just talk and work things out before causing a ruckus?" Why all the deception? You people have your communications tech, are you saying that it's not good enough to avoid this kind of thing? It's not good enough to actually have a conversation, openly with me as one person to another? You can't just talk to me if you have a problem? I'm astounded by that!
I'm not a monster and if you try to force me into that mold, I'll have to prove I'm not a monster.
But by making me do that, you become the monster.
Think about this and please contact me, you have the number. I really have no beef about the beliefs of Scientology (other than, it's not something I want to get into .)
I have issues with the heavy handed tactics they use to control people, and the deception.
Can you really blame me?
..
A postscript. (September 14th, 2008)
Thanks for stopping by, I'm kind of in awe and very grateful of the support. I've gone to many Anon protests in my area and I've met many fabulous people. One thing that's struck me about all of them is that they are "doers" not followers. Movers and shakers, not stay-at-home types.  In another generation these are exactly the kind of people Scientology would recruit.
I'm following the saga of Clearwter, her "church" and her protesters. Much of what I see and here will be on this blog, http://blackfish.biz/allen .
Please stop by and comment!
Thanks again!
GA